This video gives you specific ideas about how to prepare meals for the VIM (Victor's Inflammation Mend) program.

This month, I am starting a study of a new health program called VIM (Victor's Inflammation Mend), which is designed to reduce inflammation, minimize or eliminate chronic joint pain, lower the risk of chronic illness, increase vitality, and promote significant weight loss. In this video, I provide an overview of the VIM program. If you would like to participate in the study or learn more about VIM, please contact me.
Powered by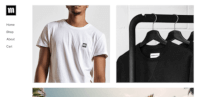 Create your own unique website with customizable templates.